Sailor Moon Crystal
season 1 episode 2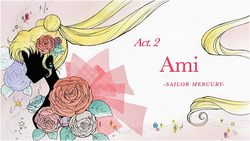 General Information
Description
Jadeite instructs a Youma to find the Silver Crystal, it takes over a female instructor at the Crystal Seminar.
Usagi meets a new student called Ami Mizuno, a genius girl who gets perfect grades. Later it's revealed that she is Sailor Mercury.
New Characters
Images
Ad blocker interference detected!
Wikia is a free-to-use site that makes money from advertising. We have a modified experience for viewers using ad blockers

Wikia is not accessible if you've made further modifications. Remove the custom ad blocker rule(s) and the page will load as expected.