The closing theme song of
Sailor Moon Crystal
is called Moonbow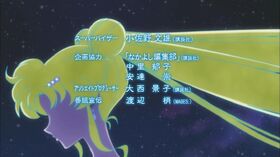 Information
Singer
Writer
Composer
Albums
Lyrics
Let's hold hands
Let's go to see the ocean
Just the two of us
It feels a little sad, doesn't it?
I can see a moonbow
Hanging in the sky
Goodbye
I promise I won't cry
Dreams that are almost crushed
By the oncoming wind
On a starry wind
They bubble and melt
Even of the whole world has gone into a deep sleep
I will continue singing
I'm sure we'll see each other again
Ad blocker interference detected!
Wikia is a free-to-use site that makes money from advertising. We have a modified experience for viewers using ad blockers

Wikia is not accessible if you've made further modifications. Remove the custom ad blocker rule(s) and the page will load as expected.