Communication device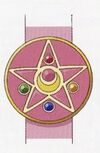 Characteristics
The Sailor's would use these to communicate with each other. They received new communicators along with their Star Power Sticks. These new communicators resemble wrist watches.
Images
Ad blocker interference detected!
Wikia is a free-to-use site that makes money from advertising. We have a modified experience for viewers using ad blockers

Wikia is not accessible if you've made further modifications. Remove the custom ad blocker rule(s) and the page will load as expected.