Guardian feline to
Chibiusa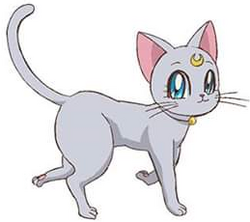 Description
Female kitten from the 30th Century. She is the daughter of Luna and Artemis in the future. She is the only guardian cat to wear a collar with a jingle bell around her neck. Like Chibiusa, King Endymion and the four Inner Senshi, Diana was one of the few who had managed to withstand the Black Moon's assault and not fall unconscious like the rest of Crystal Tokyo's subjects and queen. She stays by her beloved King's side and is determined to do whatever she can to save their homeland.
Diana takes over from Sailor Pluto has temporary guardian of the Space-Time Door.
Appearance
A small white-gray kitten with whiskers, pale blue eyes, pale pink ears on the inside, and a collar with a yellow bell on it.  
Powers
Diana has no powers
Biography
Home Planet
Occupation
Advisor to Chibiusa / Sailor Chibi Moon
Associates
Chibiusa
King Endymion
Neo-Queen Serenity
Sailor Senshi
Relatives
Luna - Mother  
Artemis - Father  
Images
Ad blocker interference detected!
Wikia is a free-to-use site that makes money from advertising. We have a modified experience for viewers using ad blockers

Wikia is not accessible if you've made further modifications. Remove the custom ad blocker rule(s) and the page will load as expected.