VIZ Media
has licensed
Sailor Moon Crystal
for release in North America.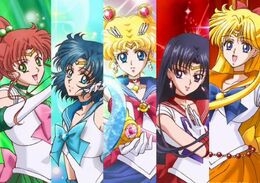 Information
The first two episodes of the English dub of Sailor Moon Crystal will be premiered at the Anime Expo convention in Los Angeles on Friday July 3rd. This will be Act 1. Usagi, Sailor Moon, and Act 2. Ami, Sailor Mercury.
Cast
Actors for the new English dub of the Original Sailor Moon Series will also be voicing the same characters in the Sailor Moon Crystal dub.
For the complete list of the English dub cast see here
Ad blocker interference detected!
Wikia is a free-to-use site that makes money from advertising. We have a modified experience for viewers using ad blockers

Wikia is not accessible if you've made further modifications. Remove the custom ad blocker rule(s) and the page will load as expected.