Member of the 
Death Busters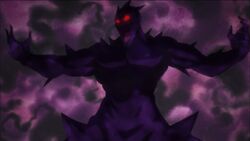 Description
An extraterrestrial entity who took control of the human man Professor Tomoe.
Death
Destroyed by Sailor Moon's Rainbow Moon Heartache
Biography
From the Tau Star System. Super life form, alien-human hybrid.
Associates
Powers and Abilities
Images 
Ad blocker interference detected!
Wikia is a free-to-use site that makes money from advertising. We have a modified experience for viewers using ad blockers

Wikia is not accessible if you've made further modifications. Remove the custom ad blocker rule(s) and the page will load as expected.