A device used by 
Chibiusa Tsukino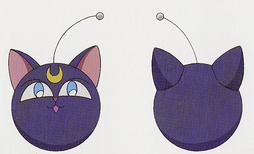 Description
It given to Chibiusa by Sailor Pluto. It was her dear friend. Luna-P seems to have some self-awareness; it follows Chibiusa and defends her.
Black Lady's response to Luna-P was calling it a stupid and childish toy
Luna-P was created by the future Sailor Mercury
Appearance
A sphere with an antenna, it bares a strong resemblance to Luna.
Powers
Able to detect trouble
Communication
Transformation
Hypnotize
Use
Images
Ad blocker interference detected!
Wikia is a free-to-use site that makes money from advertising. We have a modified experience for viewers using ad blockers

Wikia is not accessible if you've made further modifications. Remove the custom ad blocker rule(s) and the page will load as expected.