Manga are comics created in Japan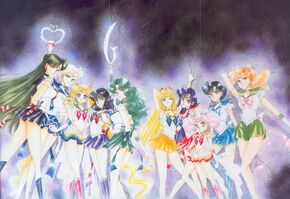 Information
The original incarnation of Sailor Moon called 'Pretty Soldier Sailor Moon' was published in Nakayoshi magazine between 1992 and 1997. It consisted of 18 volumes covering 52 acts, with volume 11 containing short stories that did not follow the main story-line. A new edition consisted of 12 volumes covering 60 acts, as well as two additional volumes separating the short stories from the main story line.
Images
Original Release
Re-release 
Third Release 
Ad blocker interference detected!
Wikia is a free-to-use site that makes money from advertising. We have a modified experience for viewers using ad blockers

Wikia is not accessible if you've made further modifications. Remove the custom ad blocker rule(s) and the page will load as expected.