Member of the 
Black Moon Clan
.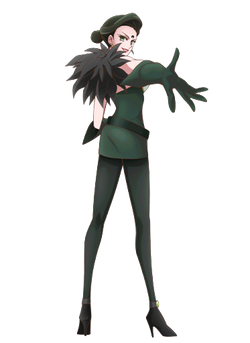 Description
She is the eldest and most mature of the four Spectre Sisters who works for and obeys Rubeus as one of his loyal minions. Wants to avenge her younger sisters Koan and Berthier.
Her first assignment was to spread a deadly disease all over the city of Tokyo in order to find Chibiusa. Petz manages to get into a fight with Makoto who became infected by her virus and later manages to transform into a much stronger Sailor Jupiter. Petz is killed by Sailor Moon, but Sailor Jupiter is trapped in Petz's thunder sphere when Rubeus takes her.
Appearance
Mission
Code 003 Operation Re-new. Hunt for the Silver Crystal and the Rabbit (Chibiusa)
Biography
Location
Associates
Rubeus
Relatives
Powers and Abilities
Items
Images 
Ad blocker interference detected!
Wikia is a free-to-use site that makes money from advertising. We have a modified experience for viewers using ad blockers

Wikia is not accessible if you've made further modifications. Remove the custom ad blocker rule(s) and the page will load as expected.