Commander of the 
Dark Kingdom
.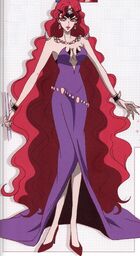 Description
Planning to betray Queen Metaria by keeping the Silver Crystal for herself. She has always been in love with Prince Endymion and wants to be with him.
Appearance
Long red hair
Biography
Queen of the Dark Kingdom
Location
D Point at the North pole
Associates
Items
Mystical staff
Red orbicular-shaped crystal
Images
Ad blocker interference detected!
Wikia is a free-to-use site that makes money from advertising. We have a modified experience for viewers using ad blockers

Wikia is not accessible if you've made further modifications. Remove the custom ad blocker rule(s) and the page will load as expected.