Adviser to the 
Black Moon Clan
.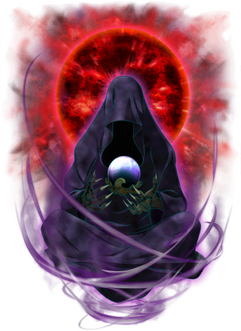 Description
Wiseman was at one point a human being who lived in Crystal Tokyo and possessed dark powers which he used to unleash chaos to the populace and brain wash people to rebel against Neo-Queen Serenity.
Disguising himself as Wiseman, Death Phantom pretended to help the Black Moon Clan.
Appeared to the Black Moon Clan from nowhere. With his clever way with words and cheap fortune-telling tricks he's completely emasculated Prince Demande.
Granted the ability of invincible evil sight to Prince Demande.
Appearance
Hooded figure in a purple-black cloak. His hands are visible, and they appear to be dark multicolored.
Biography
Occupation
Ruler of Nemesis
Location
True Form
Death Phantom
Associates
Powers and Abilities
Images
Ad blocker interference detected!
Wikia is a free-to-use site that makes money from advertising. We have a modified experience for viewers using ad blockers

Wikia is not accessible if you've made further modifications. Remove the custom ad blocker rule(s) and the page will load as expected.